Message from the Founder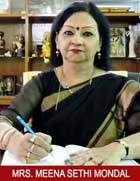 The North Point Senior Secondary Boarding Schools as they stand today one in Arjunpur, another in Rajarhat and the third one are conceptualized and born out of my Ideation of Ideal heaven of study and learning and hence the schools have been nurtured, nourished and cared as my own children.
In my early youth, whilst working as a teacher in a school in Kolkata, I felt strongly that certain existing practices and norms of School education needed overhauling and I dreamt of my ideal school the dream would not let me sleep. At my age then, I perhaps could have aimed at a secured and settled life, however, I entertained my dream of starting a school of my own at a time when I had neither financial nor logistic support.
The assets that I had were my courage, self-confidence and whole hearted support of my parents Late Sri. Satpal Sethi and Late Smt. Bimla Sethi. My chief aim was to provide quality education at a very affordable rate to students across the categories irrespective of their social and economic background.
Finally my dream came true as in 1991, my school North Point Senior Secondary Boarding School under North Point Education Trust was established at Gorakshabasi Mandir Complex, Arjunpur. Subsequently, North Point Senior Secondary Boarding School, Rajarhat Branch was established on 42 bighas of land amidst beautiful landscape of Rajarhat in the year 2004. Arjunpur Branch is Day scholar whereas Rajarhat Branch is a Day – Boarding School having all the amenities that a modern boarding school should have. In the boarding school, a loving and caring environment is provided to make the boarders feel a home away from home.
My ideation for perfection created an inspiration to start another dream project in the heartland of where one of the best educationist ever setup The Viswabharati i.e. Bolpur. We have our third branch growing exponentially at Shantiniketan. The much loved abode of the Kabi Guru Rabindranath Tagore.
In my journey I was fortunate to get support and co-operation of my dynamic Staff members, Students, Guardians and my family members. I always believed in a curriculum that would ensure all aspects of a child's development – emotional, intellectual, moral, physical and social. This activity - oriented teaching approach should be imparted to the students in a spacious, open atmosphere quite close to nature.
In conclusion, I repeat the words of the Poet Robert Frost ".....and miles to go before I sleep." I always have the interest of the child in mind as my biggest priority and I would keep on pursuing my dreams towards the realization of my goals to make this world a beautiful place for the children to grow up in and live a life of dignity. My greatest reward and satisfaction is when I see my beloved students grown up to be successful and responsible citizens and prepared to make right choices in life.